The winners have been announced, and some of our favourites are there!
Best Picure Book:
Mr Whistler by Margaret Mahy

Children's Choice Award:
Melu by Kyle Mewburn

Best Junior Fiction
My Brother's War by David Hill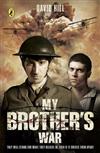 Best Non-Fiction:
100 Amazing Tales from Aotearoa
by Simon Morton & Riria Hotere


Congratulations to all the authors and illustrators!!